Simple Church 

Easter Service Schedule


First Internship/ministry placement program
In addition to hosting our usual outreach teams, this year we were privileged to begin what we hope will be a growth-filled blessing to many by beginning an intensive internship and ministry experience program. Miles McDowell and Andrew Ortiz of First Baptist Church in Wylie, Texas joined us for 6 weeks of serving and learning at The Angel Church. Housed by a church member they engaged in local outreach and evangelism, while also getting a taste of what ministry looks like in different areas of London, namely, Southall, Wood Green, and Walthamstow. They were also instrumental in helping us with some graphic design and media work, including short q&a videos that we hope to start releasing very soon. We thank God for the opportunity to be a part of these young men's growth in ministry. Please pray for them. Should you be interested to know more about what an internship and ministry placement would look like for yourself or a church member, please get in touch through theangelchurch@gmail.com.
Summer-time outreach teams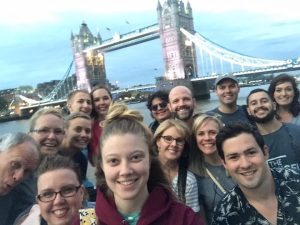 For several years now, The Angel Church has been blessed and privileged to have First Baptist Church, Wylie, Texas partner with us in local outreach. From telling people about Jesus on doorsteps, the street, or in local parks to helping with community BBQs and summer sports' camps, our friends from Wylie have consistently served The Angel Church and the area of London that is Angel, Islington prayerfully and practically! This year we have been thankful to have two teams from FBC Wylie help and are thankful for all that has taken place as the result of their ministry alongside us. Be looking out for news regarding next year's plans. We are exploring some new options for reaching the immediate locality!

Grace Baptist Partnership Annual Conference
Join us for what promises to be GBP's best annual conference/retreat yet! Bookings are now very limited, so make haste.